Almost every customer you'd want to target online today, has an account on popular social media platforms. People still spend hours scrolling through social media platforms. Naturally then, having a good presence on social media has become more of a necessity for small businesses rather than being just an option.
For small businesses with limited budgets who cannot spend on advertisements on big billboards, social media allows for some effective marketing strategies to build their brand. Given the vast choices of platforms, the task has become simpler. And it's probably the superior option anyway.
Let's take a look at the benefits social media brings to small businesses, and some social media strategy tips that every small business can use to their advantage.
Why social media marketing is important for small businesses
Let's face it – while large companies have specific budgets dedicated for elaborate marketing efforts, small businesses can't be reckless by just throwing around money for social media campaigns and waiting for results. A proper strategy should be in place and the business should be smart, creative and agile about making the relevant information known to the right target audience for improving your brand's awareness.
Let's take a quick glance at all the benefits of a social media strategy for your small business:
Wider reach

: If you've started out with your own little venture and are struggling to make it known to more and more people, then social media platforms can provide you the perfect reach. 

Increasing brand awareness

:  If your social media strategy is executed well then your brand will get more popular. When that is combined with effective engagement, it helps retain customers and generate loyalty. So, apart from bringing in new first time users, social media also acts as a perfect tool to create repeat customers.
Identifying user needs

: Social media analytics helps in knowing more about your customers and understanding their needs better. Their viewing and purchase patterns can be a helpful tool in recognizing what their product preferences are and accordingly changes can be made in your business strategy as well. Feedback from viewers/customers can also help in creating better content in future which is more appealing to your target audience.
Top 5 social media strategy tips
5 simple social media strategy tips that can help your business up its social media game and market your brand well would be:
1.
Pick a social platform
Knowing the benefits of social media for your small business is not enough, you must get online and think about creating an appropriate social media strategy. Firstly, you need to carefully choose the correct social media platform, and for that, you need to get data on what platforms your target audience usually spends the maximum time on. You can even use a combination  of social media platforms to meet various goals of your business. 
While making the choice of the social media platform, you should ask  some of the following questions-
For which purpose will I use this particular platform?

What is the target audience I am trying to attract through this platform?

Which brand message am I wanting to convey through this platform?

What kind of content will suit this platform?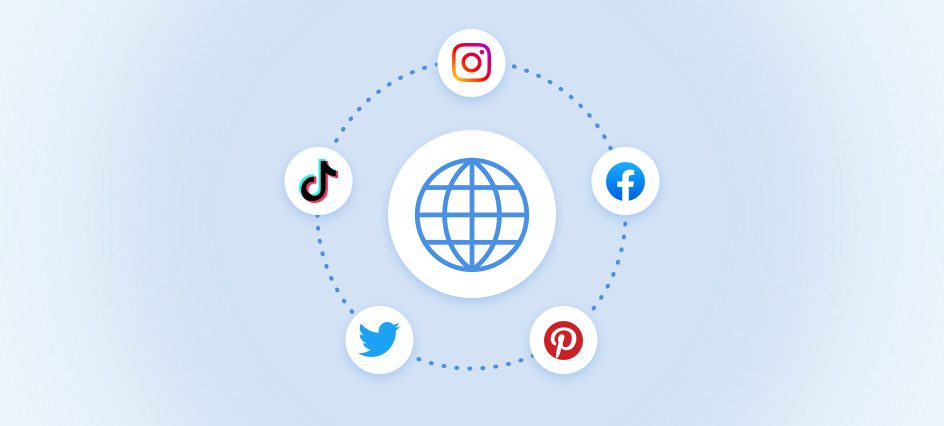 Source: 5 platforms for social media strategy 
2.
Posting
Consistency
Occasional posting on your chosen platform unfortunately won't get you the desired results. For your social media strategy to work its true magic, consistency is the key! 
You need to be regular with generating content and for this purpose you can create a content calendar for every platform that you are using. In this way you can methodically organize and schedule when your content goes up and what quality has to be delivered routinely. 

Even enterprise level players need to keep in check the brand image, brand message, frequency of posts and the hashtags while marketing through any platform.

Also another tip would be to focus on a few platforms at first because you don't want to overcrowd your brand's presence everywhere and fail to deliver quality content, which will end up tarnishing your brand's image.
3.
Interesting content
With each business doing its best to stay consistent with their posts while user feeds are filled with so much to view, how your business will differentiate itself is something to think about to make your social media strategy a game changer. Good content which is creative and engaging at the same time always wins hearts.
Take the example of Zomato, where we often see the company posting hilarious food related memes on its accounts where the audience is busy commenting on their open ended posts and having loads of fun!
Now although "interesting content" can be a subjective term in the sense that a finance startup will find some news piece the perfect material for a post, whereas a media company is always on the lookout for some controversy to play with, each business can still identify the type of content that their target audience will be most interested in.
4.
Generate Good Social Engagement
This will help you in building your brand by creating  a community which gets attached to your business and become a loyal follower base. You can adopt the following few techniques to ensure this-
Using storytelling and establishing a brand voice

Live streams

Interacting with the followers in the comment section

Following the latest trends and creating polls/quizzes
5.
Pay Attention to Social Media Analytics
Your online presence and performance can be greatly improved if you make the full use of social media analytic tools. Most social media apps today have inbuilt facilities to track metrics and come up with comprehensive dashboards and charts if it is in the category of a business account. These stats and insightful data can help in brand building as you can gauge the effectiveness of your social media strategy and correct where things are going wrong.
Source: Social media dashboard
In conclusion, any small business can improve its online presence if it crafts a social media strategy attuned to a narrow target audience in the best way possible. When combined with follow ups and unique interactions with potential customers, such strategies help greatly in brand building and development. 
Do keep in mind that social media is something that is ever-evolving, so your social media strategy should also be altered every now and then to stay up to date with the trends, so that the growth of the customer base and your business does not stop.
yMedia is a digital marketing agency, and we can be the one stop solution for all your content related problems! We make sure that your business's online content is bold and you are able to establish an effective identity for your brand via content. To know more about us and our areas of expertise, do visit our website!